Hayden Rowe Scent List
* Scent has been discontinued
29 High Street - L*SH type
7up Pound Cake - Warm dense cake, almond, lemon, lime, vanilla and sugar
Absolutely Fabulous Cake  - Rich white cake, shredded coconut, sweet vanilla and white chocolate
Acai – Sweet tropical berries
Africa - Exotic wood, dry air, musk, smoke. An incense type of scent
Almond Joy- Intense Almond fragrance balanced by a fusion of rich coconut cream and kissed by a hint of chocolate
Almond Macaroon  - Warm Cookie, Toasted Almond, Vanilla Bean, Butter, Orange Zest
Aloha - Sweet Coconut, Island Fruits, Tropical Flowers
Amber Linen - Amber, sandalwood, jasmine, tangerine, clean laundry
Ambra de Nepal Type  - (Profumo de Firenze Type) Amber, Cardamom, Sweet Madagascar Vanilla
Ambre Lumiere type - Citrus, amber, moss, vanilla musk, oriental flowers
American Cream – L*USH type
Amish Country - Vanilla, Cinnamon, Clove, Allspice, Nutmeg, hint of Sugar. Bakery spices without the bakery notes
Amish Sweater  - Warm, Clean blend of Amish Country with our own Shorts & Sweater
Apple Barn - Crisp apple, cider spice, honey, vanilla with a hint of caramel
Apple Blossom Cotton Candy- Delicate Apple Blossom floats on a cloud of sweet cotton candy
Apple Brandy Cake - Sweet apple brandy and buttery vanilla cake
Apple Harvest - Apple, Orange Peel, Cinnamon, Nutmeg, Clove, Vanilla
Apple Mango Tango - (Gain Type) Tropical blend of sweet floral and exotic fruits infused with a woodsy, musky base
Apple Pie - Warm Apple Pie filling with a perfect, buttery Crust
Apples and Oranges - Sweet Satsuma Orange (Body Shop Type) with crisp candy apple.
Apricot Chamomile – The mild aroma of chamomile with the tangy scent of fresh apricots
Apricot Rose – Warm apricot nectar with delicate rose petals
Aspen  - Aspen Winter Type. Citrus, Vanilla, Warm Spices, Musk
Autumn Pear - Juicy Pear, Lychee, Honey, hints of Holiday Spice
Autumn Wreath - Pear, Apple, Cinnamon, Nutmeg, Vanilla, Cedar, Musk, Woods, Autumn Leaves
Aveda Shampure - Herbal blend of Coriander, Eucalyptus, Lavender, Sweet Orange, Bergamot, Ylang Ylang
Avobath  - L*SH Type Lemongrass and citrus
Awapuhi Sea Berry - Awapuhi, sea spray, melon, berries, vanilla, light florals, musk
Baby Baby - Our house blend of Baby Powder
Bad, Bad Leroy Brown - Lord of Misrule Type
Bahama Mama- Pineapple, red berries, passion fruit, guava, mango and acai
Baies de Cassis - Bulgarian rose and black currants with black currant leaf
Balance & Glow - Honeysuckle, citrus, lavender, echinacea, vanilla, honeycomb
Balmoral - Clean laundry, mossy herbal cologne (shorts & sweater, My 80's boyfriend)
Balsam and Cedar - Fresh blend of balsam, cedarwood, and juniper berry. YC type
Banana Beach - Banana Cream Pie, Banana Pudding, Banana Boat Sunscreen
Banana Cream Pie - Banana, vanilla, pie crust, butter
Banana Nut Bread - Sweet Banana Bread with Walnuts, Pecans and Vanilla
Banana Pudding - Creamy banana pudding scent
Bandshell - Churro with cinnamon sugar and creamy vanilla
Barber's Hot Towel - Shaving Cream, Ozone, Cotton, Amber, Musk, Baby Powder
Barbershop 1920's - Shaving Cream with notes of amber, bay rum and musk
Barbie Girl* - Strawberry, Raspberry, Guava, Fizzy Pop
Beach Bum  - Bobbi Brown Beach Type. Suntan Lotion, Bergamot, Fresh Air, Sand, Gardenia, Jasmine, Musk
Beach Daisies - Fresh Spring Flowers, Dune Grass and warm Sand
Beach Garden  - Ozone aquatic notes blended with soft floral highlights, Fresh summer air blowing through an oceanfront garden
Beach Glass - Salty sea air blended with light florals and musk
Beach House  - Clean notes of the sea and salt air combine with light floral and amber notes like an ocean breeze blowing in over a seaside garden
Beach Linen  - Clothing dried on a line in the ocean breeze. Fresh and airy
Beach Nights  - Salty sea air and Marshmallow s'mores
Beach Pine - Returning Favorite! Dry, sun bleached Driftwood, warm Sand and beachy Scrub Pine
Beach Towels - Sunny salty laundry goodness. Ozone, sea spray, laundry
Beaches - Sea salt, coconut water, lavender, sea spray, driftwood, beach moss, amber
Beautiful Morning - Lime, orange, sea air, light florals, sandalwood, amber
Belgian Spa  - Badedas Type, Leafy Greens, Florals, Basil, Citrus, Amber, Musk
Bermuda Sands – Bright Citrus, Sweet Florals and a clean Ocean Scent
Bermuda Shorts - Shorts and Sweater mixed with melons, citrus and watermelon.
Berry Mousse  - Rich vanilla whipped cream base with sweet wild berries
Big Ben - Jasmine, Ylang Ylang and zesty green citrus blended with our own Pressed Linen Lemon Laundry scent.
Birch Beer - Crisp herbal soda similar to Root Beer but less creamy. A Hayden Rowe original
Black and Blue  - All the berries of summer come together in this bright, sweet blend
Black Currant Absinthe  - Apple Blossoms, Saffron, Black Currants, Blackberries, Vanilla Orchid, Star Anise, Amber
Black Flip Flops - Tropical vanilla blended with the Yankee Black Coconut type. Smooth and tropical!
Black Ginger Bamboo - Bamboo, ginger, exotic musk
Black Linen – Cotton and rain with white blossoms and amber
Black Orchid - This popular Tom Ford scent is a modern take on the orchid. Ginger, Black Pepper, Orchid, Patchouli, Amber, Vanilla, Musk
Black Raspberry Coconut- Black Raspberry Vanilla blended with Coconut Cream
Black Raspberry Vanilla  - Bright blackberries with mellow, natural vanilla
Black Sea Barber  - A Hayden Rowe classic blend! Salty oceanic accords, amber, vanilla and our Barbershop 1920's shaving cream combine to create a uniquely sexy masculine blend!
Black Velvet - Notes of Sicilian Lemon, Bergamot and french lavender balanced with tonka bean, amber noir, sandalwood and musk.
Blackberry – Juicy tart blackberries
Blackberry Ginger Ale - Fresh picked blackberries and crisp, fizzy ginger ale. Fruity and refreshing!
Blackberry Jam Butter Cookies - Sweet blackberry jam and warm butter cookies
Blackberry Lime- Ripe, Sweet backberries with juicy, tangy lime
Blitzen - Citrus, Anise, Jasmine, Musk and Cedarwood
Blizzard - Fir, citrus, apple, pear, spice, mint, sandalwood, cedar, sugared vanilla
Blonde Moment – Champagne with raspberry, tart cranberry and slight grape notes.
Blood Orange – True to life orange scent
Blue Agave – Kaffir lime, citrus, apple, oakmoss, white woods
Blue Cotton Candy  - Carnival favorite with slight blue raspberry notes
Blue Raspberry Slush  - Candy raspberry like blue raspberry snow cone
Blue Raspberry Zotz - Sweet Blue Raspberry Slush with an effervescent kick
Blue Raspberry- Candy raspberry like blue raspberry snow cone
Blue Skies - Citrus, anise, jasmine, lavandin, warm musk and cedarwood
Blue Spruce  - Cypress, Moss, Spruce, Pine, Cedar
Blue Sugar  - Caramelized sugar, woodsy cedar, tonka bean, patchouli and other aromatics
Blue Sugar Vanilla Sandalwood - Caramelized sugar, Tonka bean, Vanilla, Sandalwood
Blueberry – Sweet fresh blueberries
Blueberry Cheesecake - Baked creamy cheesecake topped with sweet blueberry
Blueberry Lemon Fizz - Sweet Blueberries, Icy lemon and just the right amount of effervescence
Blueberry Muffin - Sweet, blueberry bakery goodness
Blush – Sweet florals, fresh air, cotton blossoms, fruit and florals
Boardwalk Bliss - Saltwater Taffy, Fizzy Pop, Cotton Candy
Bonfire Bliss  - Charred Wood, Smoky Sandalwood, Roasted Marshmallow, Brown Sugar, Vanilla- Not heavy on the smoke!
Boo Berry Cereal- Candy sweet blueberry cereal
Bookstore - The fragrance of a library filled with first editions! Italian Bergamot, Cashmere, Patchouli, Vetiver, Cedar, Musk, Old Leather
Bookworm - The Scent of old books. Teak, Cedar, Leather, Sandalwood, Patchouli, Musk
Bora Bora  - Mango, Pineapple, Acai, Tropical fruits
Born in the USA* - Perfectly broken in denim, Rocket Pop popsicle
Boston Strong - Leather, Cardamom, Black Pepper, Sandalwood, Earl Grey Tea.
Boston Tea Party - Lemon, Tea Leaves, Orange Scented Tea Cakes.
Boudoir - Exotic fruits, Vanilla Orchid, Lemon, Linen, Vanilla, Chiffon Musk
Boyfriend Jeans - Warm Cotton, Citrus, Clean Air, Violet, Jasmine, Musk, Amber
Brady Bunch - Effervescent Fizzy Soda, Orange Satsuma and Strawberry Passion
Bread & Jam - French baguette, raspberry jam
Breakfast at Tiffany's - Cupcakes at Tiffany's with Espresso
Breakfast in Bed - Rich black tea with orange scented cakes (L*SH Tea & Cakes Type)
Breakfast In Bed- Strong Tea and Orange Cake blend
Breakfast of Champions - Delicious cereal blend of Cap'n Crunch, Booberry Cereal and Fruit Loops
Breath of God - Melony citrus, sandalwood, cedar wood, amber- L*sh type
Breezes & Sunshine - Blood orange blossom, sea waves, light florals, wood
Brimstone - Vanilla, Palo Santo, exotic woods, dry air, musk, hint of smoke
British Barber  - Shaving Cream mixed with sage, crisp lemon and sparkling lime
Bubble Gum  - Sugary chewing gum
Bubbling Volcano - Tropical Fruits, Sugared Citrus, Violet, Sweet Japanese Quince, Cassis, Pomelo, Driftwood, Mountain Greens and Fizzy Pop
Bum Bum Type - Salted Caramel, pistachio, soft fruit notes, citrus, sandalwood, ambergris
Butter Pecan Ice Cream – Creamy vanilla ice cream with butter pecan swirl- A Hayden Rowe original
Butterbeer – Just as you'd imagine the famous drink to smell. 'a little bit like less- sickly butterscotch' but without the fizz.
Butterbrickle - Vanilla, Almond, Caramelized Sugar
Buttercream Frosted Cupcake – Sweet vanilla cupcakes with buttercream frosting
Buttered Maple Syrup - Sweet creamery Butter, Rich Maple Syrup, Warm Vanilla
Buttered Popcorn – Freshly popped popcorn with movie theatre butter topping
Buttermint Candy  - Buttery mint scent just like buttermint candies
Buttermint Cotton Candy Frosting  - Sweet, creamy and minty
Buttermint Vixen - Buttermint Candy, Vanilla Sponge Cake with whipped filling
Bye Bye Summer - Crisp autumn air, warm sunlight, burning leaves
Cabana - Bergamot, winter apple, sparkling citrus, violet petals, warm cotton and sea salt.
Cactus Sea Salt - Fresh green cactus, ozone, sea salt
Café Latte - Rich coffee, Caramel and slight hints of autumn spice
Calacas – L*SH type
California Girls - Coconut water, citrus, apple, driftwood, tropical flowers
Call Me Maybe - Bergamot, Rosewood, Amber, Vanilla, Sandalwood, Musk HR original cologne scent
Campfire - Burning Hardwood, just like campfire smoke
Candy Apple  - Juicy apple covered with a sticky red candy coating
Candy Cane - Classic peppermint scent
Candy Cane Cupcakes - Sweet Vanilla and peppermint cupcakes
Candy Cane Fluff - Candy canes blended with marshmallows
Candy Corn  - Just like your favorite Halloween Candy!
Candy Crush - Tropical fruity Candy with sugar crystals
Candy Girl - Jamming rock candy, raspberry, strawberry, grape, cherry
Candy Shop  - Fizzy Pop and sweet fruity candy
Cantaloupe - Fresh cantaloupe
Cape Cod Cranberry - Pure, Tart, Red Cranberies, Mild Sugar notes.
Caramel Cake - Creamy Caramel and yellow cake
Caramelized Pralines  - Buttery and sweet nutty treats
Carnival  - Sweet Candy apple, Salted Caramel and waffle cone. A Hayden Rowe original
Carrot Cake – Spicy sweet carrot cake bakery scent
Cashmere - Blooming Peonies, Rose and the silky sensuality of pure cashmere. Extravagant!
Cashmere Woods  - Bergamot, Orange Blossom, Lily of the Valley, Jasmine, Amber, Sandalwood, Patchouli
Cedar Closet  - Shorts and Sweater with the rich wood tones of Cedar, Rosewood, Bergamot, Black Pepper and Ginger
Celebrate Type - (L*sh Type) Zesty Lime, Cognac, Orange
Celestial  - White Tea, Yuzu, Aloe and Lemon come together in a blend you'll want to wear all day. A perfectly breezy and sexy scent based upon Christina's own favorite perfume of all time Parfums 06130 Yuzu Rouge
Champagne and Roses – Champagne with red roses
Champagne and Strawberries - Slightly Fizzy fruity champagne with sweet strawberries
Chardonnay – White wine scent with notes of peach and berries
Cherry Bomb – Extremely strong Cherry syrup scent.
Cherry Lemonade - Lemon, sugar, lime, strawberry, cherry slushie
Cherry Slushie  - Bright cherry syrup scent less intense than Cherry Crush
Chiffon Sheets - Citrus, fresh air, cotton blossoms, fruit and florals
Chill Pill  - Sweet lavender, warm vanilla with gentle hints of mint
Chilled Sangria - Cantaloupe, Spun Sugar, Orange Zest, Lime, Watermelon and Raspberry, vanilla and fruit musk.
China Rain - Fresh rain, light florals, sandalwood, vanilla
Christmas Cabin  - Bayberries, Cranberry, Cinnamon Bark, Orange Zest
Christmas Clouds - Vanilla Bean Noel and White Clouds clean laundry scent
Christmas Eve  - Warm holiday spice mingled with the scent of the Christmas tree blended with the subtle smokey scent of a wood burning fire
Christmas Past - Balsam, blue spruce, mulberry, cranberry, citrus zest, spice, winter greens, amber
Christmas Stroll - Loaded with cranberries and orange zest, eucalyptus, clove, amber, bergamot and sheer woods.
Christmas Sweater - Citrus, Winter Apple, Vanilla Bean Noel, Violet, Warm Cotton
Churchill - Light florals, smoldering woods, palo Santo, musk
Cider Donut - Baking cake Donuts with notes of Apple, Rum, Ginger, Clove, Cinnamon, Vanilla, Nutmeg and Butter
Cider Lane Type - Apple Cider and Warm Caramel
Cinnamon Buns  - Cinnamon, Clove, Butter, Sugar, Vanilla, Cream
Citrus Explosion  - Blood Orange, Fresh Squeezed OJ, Lime with a hint of fizz
Citrus Odor Eliminator - Lemon, ozone, linen, florals, musk (Fresh linen type)
Clean Break - Ozone, jasmine, light florals, gentle woods
Clean Cotton- Sun dried cotton with hints of fresh air and sunshine
Clean Crisp White –  Votivo laundry type
Clean Freak - Citrus fruits, clean green aroma, slight hint of fizz
Clean Type - Fresh air, citrus, exotic floral notes, sandalwood, musk
Clothespins - Fresh clean laundry dried by a summer breeze and bright sunshine
Club Med - Citrus, cedar, light florals, clean laundry, green herbs
Coach Monica - Stainless Steel & Tranquility. Citrus, powder, light florals, ozone, amber, moss, tonka, musk
Cocoa Vixen - Rich Cocoa Powder, Vanilla Sponge Cake with whipped filling
Coconut  - Fresh shaved coconut
Coconut Cake  - Vanilla cake, fresh coconut, whipped cream. A Hayden Rowe original
Coconut Coast  - Coconut milk, Tangelo, Pineapple, Island Air, Vanilla, Musk
Coconut Cream  - more of a dessert scent than the original 'from the tree' coconut
Coconut Leaves - BBW Coconut Leaves Type. Tropical tangerine, papaya, jasmine, coconut, vanilla
Coconut Lemongrass - Sweet, Young Coconut with fresh, green Lemongrass and Bergamot
Coconut Lime  - Zesty Lime, Creamy Coconut
Coconut Sorbet - Pure coconut milk with a hint of caramelized sugar
Coconut Tranquility - Fresh coconut, our own Tranquility scent
Coconut Whip - Sweet coconut, whipped cream, hint of vanilla
Coffee – straight coffee goodness
Coffee Ice Cream  - A Hayden Rowe house blend! Rich Coffee, Coffee Liquor, Creamy Vanilla Ice Cream
Cohiba  - Sweet cuban tobacco and light pipe smoke mingle in this sensual tobacco blend
Comet - So White L*SH type with orange, apple, rose and bergamot blended with evergreen and musk
Comfort  - Lavender, French Vanilla, Coconut Milk, Musk
Conundrum  - Sweet and Fruity Chardonnay
Cottage Breezes - Seaside blend of ozone, salt water, sweet air, blonde woods. YC type
Cotton Candy (Pink) – Carnival favorite with slight strawberry notes
Cotton Candy Chardonnay  - Fruity, white wine bouquet light on the alcohol notes, with spun sugar
Country Clothesline - Fresh cotton, powder, musk, spring flowers
Country Store* - Bergamot, honey, tea leaves, currants, vanilla, musk and cedarwood
Cozy Cabin - Bergamot, raspberry, eucalyptus, mint, pine, cedar, musk
Cran Apple Mango Tango – Tart cranberry, Gain Apple Mango Tango
Cran Orange Spice - Orange, Cranberry, Holiday Spice
Cranberry Lime - Zing of tart cranberries with fresh lime zest
Cranberry Orange Scone - Cranberry, orange zest, brown sugar, vanilla
Cranberry Soda - Tart, fresh cranberries and fizzy soda
Crisp Linen  - Clean Laundry, Lemon, Lime, Neroli, Light Florals, Blonde Woods, subtle Musk
Cruel Summer  - Creamy marshmallow, caramelized sugar and hints of chocolate
Crunch Berries Cereal – Just like your favorite Saturday morning cereal
Cucumber Sea Salt – Crisp clean cucumber with briney notes
Cucumber Water  - Watery cucumber scent.
Cupcake- Vanilla cupcakes
Cupcakes at Tiffany's - Buttery Toffee, Chocolate, Buttercream, and Vanilla Cake
Cupid - Cherry Icee just like the frozen drinks you remember
Dancer - Lemonade Ginger Ale
Dasher - Sweet Cuban Tobacco and Garden Rose become something greater than the sum of their parts
Daytona - YC Pink Sands type. Citrus, sweet floral, spicy vanilla
Deck Chair - Coconut, teak, tonka bean, light florals, amber, vanilla musk
Detox - Fresh fennel, Bergamot, sweet sassafras, anise, white clove, vanilla spice
Ditzy Blonde – Blonde Moment blended with Fizzy Pop
Doctor Pepper – Spicy Orange, cherry, toasted almond, clove, cinnamon.
Dole Whip - Freshly cut pineapple, vanilla soft serve ice cream
Donder - Like a tropical rain forest, this scent blends the ozone notes of fresh rain with notes of clean, green Bamboo
Donut Shop - Like walking into your favorite donut shop. Glazed, Jelly, Cinnamon Sugar- all of the classics are there.
Downy Blue - Fern, rose, jasmine, lilac, amber, musk, sandalwood
Downy Clean Breeze Type - Peach, Watermelon, Neroli, Jasmine, Aquatic Notes, Musk
Downy Rose & Violet Type - Fresh fabric softener scent with light, calming floral notes
Dr. Peppermint Type - (L*SH Type) Peppermint, Spearmint
Dreamsicle- Orange and cream combine to bring back the scent of your favorite childhood popsicle
Driftwood  - Sun Bleached Wood, Tobacco, Black Tea, Pepper, Musk
Duchess - Exotic herbal lavender with delicate laundry notes
Dusk  - Amber, Geranium, Lily of the Valley, Musk, Wood
Earl Grey Tea – Traditional tea leaves with bergamot zest and herbal notes
Easter Egg  - Sweet, Juicy Watermelon, Cotton Candy, Fizzy Pop
Easy Rider - Lavender, Bergamot, hints of leather blend with musky sandalwood- similar to Ezra by Abercrombie & Fitch
Eden - Black Label - Red Fruits, Fig, Black Currant, Vanilla, Stone Fruit
Effervescence - Straight fizz
Elixir - White Tea, Citrus, Aloe
Ellen - Meyer Lemon, Ginger, Persian Lime, a hint of effervescence
Elsa – Warm vanilla, menthol, eucalyptus, spearmint
Espresso – True dark roasted ground coffee scent
Every Breath You Take - Sea salt, bergamot, light florals
Exhale - Sea Salt, lemon, cedar, eucalyptus, cotton, teak, vanilla
Exotic Lavender - A very clean, herbal Lavender. Also known as Tasmanian Lavender in blends like Duchess
Exotic Lavender - Clean and tangy herbal lavender
Fairy Sheets  - Bubble gum, pear, cotton candy and vanilla come clean with the addition of a laundry influence with citrus, white flowers, green stems, warm woods and neroli.
Faubourg Saint Honore - Black Label-  Vetiver, Oak, Cedar, Amber, Citrus, Pink Pepper
Febreeze - original Febreeze scent
Fifty Shades - Black Peppercorn, Leather, Wood, Patchouli, Musk, Citrus
Fizzy Pop  - The very essence of an effervescent drink. You can even smell the bubbles!
Flannel Sheets – Citrus, floral laundry blend
Flat White  - Espresso, Steamed Whole Milk
Florida Georgia Line - Intriguing blend of Florida Orange Blossom and Georgia Pine
Fluffy Towels - The scent of fluffy, clean towels straight from the dryer
Flying Circus  - Strawberry, Bergamot, Musk, Sugar Cane and Tonka Bean.
Footie Pajamas  - Sweet Lavender, Blueberry and Lemon Laundry. Imagine your favorite kiddo munching on cereal as they watch Saturday morning cartoons.
For Francis - Parisian baguette, Strawberry Jam
Forbidden City - Black Label - Osmanthus
Forty Winks - Cool mint, sugarcane, vanilla orchid, coconut milk, musk
Fraser Fir  - Cypress, Lemon Peel, Evergreen, Fir, Cedarwood, Amber, Musk
French Baguette Type - (BBW Type) Warm baking bread, Butter, Crust
French Lavender - Refined, pure French Lavender blend
French Linen - French Lavender, amber, clean linen
French Vanilla Oak  - Creamy Vanilla, Amber, Oak Moss, Sandalwood, Patchouli, Musk
Fresh Air  - Sunshine, Citrus, Fresh Rain, Musk, Florals, Blonde Woods
Fresh Cut Grass  - Fresh, Green, springtime scent of mowed lawns
Fresh Lemon - Meyer Lemon, Yuzu, Mandarin, Lychee, Neroli, Caramel
Fresh Picked Strawberries - Sweet red berries freshly picked and warm from the sun
Fresh Sparkling Snow – Icy pear, frozen melon, frosted musk. BBW Type
Fresh Squeezed Orange Juice - Orange Juice with hints of orange zest
Frost Fairy- Notes of bubble gum, pear, cotton candy and vanilla.  L*SH Snow Fairy type
Frosted Juniper - Juniper, ozone, camphor, citrus, pine, currant, red berry
Fruit Loops - Just like your favorite Fruity Cereal
Fruit Slices  - Candied Citrus scent like the jellied fruit slices from your childhood
Fruity Fizz - Blending Lime Cotton Candy, Juicy Watermelon and our own Fizzy Pop
Fruity Pebbles - Sugary, Fruity Cereal
Full Out - Formerly known as Black and Blue.  All the berries of summer.
Funnel Cake - Your favorite fair food! Fried dough, cinnamon sugar and pure nostalgia
Gabi Butler - Delicate coconut, rich sandalwood, creamy shea butter. The essence of beach
Gain Apple Mango Tango- Tropical blend of sweet floral and exotic fruits infused with a woodsy, musky base
Gain Lavender Pine - Our own herbal lavender and pine blend with Gain laundry
Galactic - Similar to Supernova by L*SH this scent features green notes, musk, ozone and mild patchouli
Garden Stroll - Green grass, fresh garden mint, serene waters
Ginger Ale – Crisp and bubbly ginger ale soda
Ginger Fizz - Ginger, Effervescent fizz, lime
Ginger Lime - Freshly grated ginger, zesty green lime
Gingerbread Man – Sweet iced gingerbread cookie
Girl Code - Pink Chiffon, Black currants, Red Berries, Apple, Light Florals
Girls Night Out - Coconut, Margarita and Pink Sugar
Glazed Cinnabun- Warm cinnamon buns drizzled with sugary vanilla icing
Glazed Donut – Sweet warm donuts with a sugary glaze
Glory Days - Apple, Pear, mango, pineapple, sweet musk, creamy caramel
Golden Sands Type - (Yankee Candle Type) Apple, Black Coconut, Cassis, Jasmine, Gardenia, Orange Blossom, Sandalwood, Tonka, Driftwood
Goodnight Sweetheart - Lavender, marshmallow, pink chiffon, clean laundry
Graham Crackers - Cookie dough, orange zest, cinnamon, brown sugar
Grape Blow Pop  - The grape lollipop scent you remember
Grape Ginger Ale – Grape juice and Ginger Ale
Grape Soda- Bubbly sweet grape flavored drink
Grape Sweet Tart  - Tart grape candy
Grapefruit Fresh  - White grapefruit, Citrus, Florals, Bamboo, Musk. A green fresh scent.
Grass Stain - Clean cotton and fresh cut grass
Greek Bath - Greek Island Breeze, Avobath type
Greek Island Breeze - Clean Citrus notes with soft ozone and watery undertones
Green Apple - Crisp Granny Smith Apple and Peel
Green Apple Candy - Tangy sweet & sour green apple scent
Green Apple Sorbet - Frozen tart green apple
Green Apple Sweet Tart  - Tart green apple candy scent
Green Apple Vixen - Green Apple, Vanilla Sponge Cake with whipped filling
Green Clover & Aloe - Clean clover, Green aloe
Green Irish – Creed Green Irish tweed type. Manly cologne scent
Guava Fig- Fig scent with fruity sweet guava, apple and pear
Gummy Bears  - Like your favorite candy bears
Gummy Peaches - Just like the candy
Happy Type - (Clinique Type) Jasmine, Lily of the valley, Carnation, Grapefruit, Mandarin, Musk
Harry's Sweater  - Our Shorts & Sweater scent blended with our Butterbeer. Nutmeg, Pumpkin, Ginger, Warm Cotton, Citrus, Winter Apple, Violet, Wood, Musk
Hawaiian Shave Ice - Tangy tropical fruits and sweet syrup
Hayden - Tropical fruits, Amber, Light florals, Vanilla, Sandalwood, Musk
Hazelnut Coffee – Strong, rich coffee with light roasted hazelnut notes
Hedonic Tonic  - Energizing Herbal Tonic with Sage and Light Garden Mint. Fresh!
Hello Four - Frosted Sugar Cookies, Hello Sugar (Sugarcane, Lemon Zest, Shortbread)
Hello Sugar  - Sweet sugar cane with notes of lemon rind and shortbread
Herbal Lavender - Our own, herbal Lavender bend
Himalayan Pink Salt - Sheer cucumber, Lavender, Balsam, Musk, Salty Ocean Breeze
Holiday Compote - Apple, peach, cranberry, peach nectar, light cinnamon, mulling spices
Holiday Linen -  Clean laundry, thyme, bayberries, apple, pine
Holiday Linen – Clean laundry hung on the line, bayberries, apple, pine, thyme
Holiday Pear – Juicy Pear, Cranberry, Lychee, red berries, honey
Home For The Holidays – Spicy scent with note of bay, citrus, pine and amber
Honey Clementine - Orange peel, sweet clementine and honey. Yankee Candle type
Honey Cornbread  - Cornmeal, Sugar, Butter, Buttermilk, Honey
Honey I Washed the Kids Type - (L*SH Type) Honey, Toffee, Caramel
Horchata - Creamy, sweet rice drink with mild bakery cinnamon notes
Hot Cocoa - Creamy hot cocoa with fluffy marshmallows
Hot Date - Tobacco Bay Leaf Type- Bay Leaf, Fir Needle, Cedar, Bergamot, Tobacco
Hot Pink Lime  - Juicy lime, citrus and berry scent
Ice Capades  - Lemon, peppermint, spearmint and buttercream
Iced Pineapple  - Fresh cut pineapple, mild ozone
Into The Night - Dark berries, midnight jasmine, rich amber
Island Fresh Gain Type - Ozone, Greenery, Lavender, Rose, Vanilla, Jasmine, Melon, Fresh Air
Island Girl - Oranges, cherry, vanilla
Italian Biscotti – Crisp, twice baked almond cookies
Jamaica Me Crazy – Coconut, Pineapple, Rum, Tangerine, Banana and Melon sweetness of the tropics
James Dean - Sweet caramel tobacco with our own Men's Club leather and mahogany scent. Sweet and sexy!
Jamming Rock Candy  - Ripe red berries, tangy citrus, vanilla and a hint of mint
Janis Joplin  - Vanilla Patchouli blend is at once sweet, earthy and clean. Uplifting, intoxicating yet also relaxing - No dirty hippy smell here!
Jerry - Fizzy Pop, tart limes and pink berries
Jersey Shore  - Almond Macaroon, Cannoli, Cotton Candy, Sugar Cookie, Toasted Marshmallow, Twinkies
Jessie's Girl - Vanilla Orchid, exotic fruits, coconut milk and musk
Jingle Bells - Cassis, currant, citrus, strawberry, cherry almond, cinnamon
Juicy Fruit - Fruity fun just like the gum you remember
Juicy Watermelon - Fresh fruity scent of Watermelon
Just Beachy - Sea salt, almond milk, Beachy Florals, citrus
Kashmir Type - (Archipelago Type) Orange Blossom, Sandalwood, Kashmir Vanilla
Kennedy Compound - Bergamot, Lavender, Citrus, Sandalwood, Cedarwood
Key Lime Pie - Zesty Key Lime juice with vanilla and a crispy Graham Cracker base.
King of Hearts - Bergamot, black tea, citrus and freshly pressed laundry
King's Cross* - Black Label -Peony, currant, rose, citrus, vetiver and sandalwood
Kiss from a Rose -  Cream, rose petals, vanilla, sugar
Kitchen Towel – Clean lemon laundry with fresh green mint from the garden
Kokomo  - A summer favorite! This beachy blend features coconut, tropical fruits and flowers, sandalwood and musk.
Kumquat  - Sweet, unusual citrus
L'Orangerie - Black Label - Oranges, Grapefruit, Orange Flowers, Bitter Orange and Patchouli
La'Darius - Drakkar Noir type masculine blend of lavender, spice, citrus, warm cedarwood
Lady Di - Rosewater, candy floss, vanilla bean, musk, amber
Lady Marmalade - Tangerine, satsuma orange, cream, lemon zest, vanilla
Lanai – Notes of sweet pineapple, lush tropical greenery and exotic flora.
Late Summer - Ripe Red Berries, Currant, Blackberry, Rhubarb, Vanilla
Laundromat - Laundry, citrus, fresh air, light florals, cotton blossoms
Lavender Dream - Sweet lavender, marshmallow, coconut milk
Lavender Elixir - Sweet Lavender with White Tea, Aloe and Honey
Lavender Fabuloso Type - Florals and soft Lavender
Lavender Field - Lavender with hints of Rosemary and Sage
Lavender Fizz – Sweet lavender lifted with bubbly effervescence
Lavender Lime - Lightly Herbal Lavender with our own Tangy Lime
Lavender Mac Apple – Sweet lavender blended with juicy Macintosh apples
Lavender Marshmallow - Sweet, creamy marshmallow with sweet lavender.
Lavender Pine - Crisp, herbal Lavender, Balsam, Cedarwood
Lavender Pop - Fizz and Sweet Lavender
Lavender Sage - French Lavender with sweet, green Herbs
Lavender Soda - Sweet Lavender and our Fizzy Pop
Lavender Sugar  - Sweet lavender blended with Pink Sugar
Lavender Tranquility - Clean Lavender with our sweet powder Tranquility scent
Lavender Vanilla Type - (Yankee Candle Type) Lavender, Vanilla Bean, Orange Zest, Patchouli
Layla* - Bergamot, Sandalwood, Sugarcane, Pink Grapefruit, Light florals
Leather and Lace - Well worn Leather, Vanilla and musk
Led Zeppelin  - Ripe cherries, sugared citrus and spun sugar
Lemon  - Fresh bright lemon
Lemon Basil - Fresh iced lemons with garden basil
Lemon Breeze - Fresh lemon juice, sorrel, thyme, rosemary- a lemon cleaner type
Lemon Candy Cane - Cool peppermint, tart lemon
Lemon Cheesecake - Fresh lemon, creamy cheesecake, graham cracker crust, cream, lemon zest
Lemon Curd – Fresh bright lemon with vanilla, sugar and cream
Lemon Heaven - Lemon curd, cheesecake, pie crust
Lemon Ice  - Fresh iced lemons
Lemon Icebox Cookies  - The perfect balance of lemony Bakery and bright Citrus
Lemon Lavender  - Bright lemon with herbal lavender. Yankee Candle type
Lemon Meringue  - Lemon Curd, Toasted Marshmallow, Sweet Marshmallow
Lemon Mint - Fresh iced lemons with green garden mint
Lemon Peppercorn  - Fresh, Bright Lemon, Peppercorns, Juniper Berries, Clary Sage, Citrus, Ylang Ylang, Clove
Lemon Pound Cake - Rich lemony bakery scent
Lemon Tranquility - Baby powder, light florals and mild musk with the perfect lemon scent
Lemonade  - Lemon, Lemon Peel, hints of Orange and Pineapple
Lemonade Suckers  - Brightly colored lollipops blended with sweet lemonade
Lemonwood - Lemon, Lemon Leaves, Warm Woods
Let it Go -Warm vanilla, eucalyptus, spearmint and extra menthol. (Elsa + extra Menthol)
Let Them Eat Cake Type  - (Tokyo Milk Type) Sugar cane, Coconut milk, Vanilla orchid, White musk
Lexi - Tropical citrus, mango, papaya, green notes, sweet musk- Caribbean Salsa type
Lifeguard - Aqua di Gio type with our earthy Sea Salt fragrance. Musk, Ozone, Light Florals, Bergamot, Neroli, Patchouli
Lime  - Fresh and tangy citrusy lime
Lime Cherry Slush - Tangy and sweet frozen blend of ripe summer fruits.
Lime Cotton Candy  - A Hayden Rowe House Blend of Tangy Lime and Sweet, Pink Cotton Candy
Lime Sage  - Bright lime and citrus blended with herbal sage
Lime Sugar  - Tart lime blended with pink sugar
Lingonberry - Cranberries, peach, apple, grapefruit zest, violet, vanilla
Love Spell - Citrus, Cherry Blossom, Hydrangea, Apple, Peach, Blonde Wood- A Hayden Rowe Favorite!
Love Spell Clean Cotton – Love Spell blended with our own Clean Cotton
Luna – Nectar filled fruits and exotic florals blended with vanilla and honey
Luxury Lavender - Upscale, clean lavender with bergamot, eucalyptus and citrus
Lychee Jellies – Sweet and fruity like your favorite Asian treat!
Macintosh - Crisp, Autumn Macintosh Apple
Macintosh Dreams - Macintosh Apples dipped in Marshmallow then coated with Caramel
Made in the Shade - Lemonade and Lemon Sugar
Magic Spell - Tart Cranberry blended with bright Fizzy Pop
Mahogany Teakwood Type - (BBW Type) Mahogany, Teakwood, Bergamot, Citron, Ylang ylang, Cinnamon
Maine Woods  - Fresh balsam scent with hints of wood smoke. A HR house blend
Maine Woodsman - Balsam Pine, Luxurious Leather, Tobacco, Mahogany with a hint of Wood Smoke
Man of Steel – Floral, fruity, warm, smoky, earthy notes balanced with beachy clean notes
Mandarin Day Spa  - HR's Spa Day blended with Mandarin Oranges, Tangerines and sweet berries.
Mango Sorbet – Frosty fusion of fresh mango and ripe tangerine
Mango Tangerine- Blend of fresh mango and ripe tangerine
Margarita  - Lime, Lemon Zest, Fresh Greenery
Marie Antoinette  - House blend of Tokyo Milk's Let Them Eat Cake with our own Comfort scent
Marshmallow Lane  - Vanilla Glazed Marshmallow blended with Cider Lane type
Mat Talk - Ozone, sea salt, cactus
Men's Club – Well worn leather and mahogany with a touch of tobacco.
Mimosa Mandarin  - Bubbly mimosa, Mandarin Orange, Tangerine, Vanilla
Mint Cocoa  - Creamy hot cocoa with notes of vanilla and mint
Mint Latte  - A house blend inspired by BBW White Mint Latte. Notes of peppermint, White Chocolate and Creamy vanilla.
Mint Mojito - Freshly muddled Garden Mint, Sugarcane, hints of Pineapple
Mint Tea - Earl grey tea, lemon, honey, mint leaves, green tea leaves
Mmmm Bop! - Strawberry, Satsuma Orange, Bubble Gum
Molten Amber – Amber, Vanilla, Sandalwood, Musk
Moon Landing  - Bergamot, Lemon, Tarragon, Geranium, Rose, Vetiver and Cedarwood combine to create a unique and sophisticated masculine scent
More Than Four - Frosted Sugar Cookies
Morgan - Sweet and addictive. Pink lemon, citron, candied strawberry, candied lime zest, sugarcane, vanilla
Mount Washington - Citrus, Cedar, Jasmine, Ylang Ylang, Pine, Ozone, Moss.
Mrs. Vern - Kumquat, Pink Cotton Candy, Strawberry
Mulberry – Fruity, berry blend with cherries, apples, peaches, strawberry and tangerine
Mulled Cider  - Spicy orange, nutty chestnuts and clove with vanilla and caramel notes
My 80's Barber  - Mossy, herbal cologne and Barbershop 1920's
My 80's Boyfriend - Mossy Herbal Cologne scent of the type popular in the 80's
My 90's Boyfriend - Cool Waters Cologne type
My 90's Boyfriend Sweater - Shorts and Sweater with My 90's Boyfriend (Cool Waters)
Nantucket  - Rose, lily and mandarin blended with ozone, amber and honey
Native New Yorker* - Tart lime, Sweet Lemonade, Effervescence
Navarro - Earthy and rich sunbaked terrracotta, windswept tumbleweeds, cedar wood and patchouli
Neptune – Waves crashing on the shore, salty air and seashells
Newport Sails - Ozone, Cyclamen, Ylang Ylang, Sandalwood, Musk
Night Circus - Sweet, sultry and mysterious mixture of Caramel, Apple, Citrus, Berries, Warm Florals and Vanilla.
Nilla Wafer – Buttery vanilla cookies
Northern Lights - Fresh and soothing blend of Icelandic moss, exotic greens, resin, yucca, fresh linen and rich amber
Notting Hill - Black Label - Sophisticated cologne scent featuring Black Pepper, Citrus, spice, light florals, musk and mild patchouli
Nursery Rhyme - Baby Powder, light florals
Nutmeg Ginger - Warm, mildly spicy scent of home. Like a bakery scent without the butter/flour elements
Nutmeg State - (Formerly Nutmeg Ginger) Spicy Nutmeg, Zingy Ginger, Mild Bakery Notes.
Oasis  - Pear Agave, Vetiver, Grass, Clean Forest Moss. For clean lovers!
Ocean Water – Just like the Sonic drink, citrus soda and coconut
Old Town Bake Shop - Buttery Vanilla, fresh dough, batter, sugared almonds
Olive Branch - Neroli, Lemon, Oak moss
One Dance - Herbal lavender, amber, myrrh, vanilla bean, musk
Ooey Gooey - Toasted Marshmallow, Marshmallow Fluff, HR's Stay Puft and Campfire Marshmallow
Orange Blossom - Orange, Clementine Flower, Orange Blossom, Water lily, Vetiver
Orange Chiffon Cake - Buttery vanilla cake with orange meringue and orange zest
Orange Juice – Freshly squeezed OJ
Orange Juice Cake – Buttery pound cake, Orange zest, vanilla, coconut, caramel
Orchid Rain  - Fresh floral with notes of orchid, peony, water lily, aloe and bamboo
Palm Beach - Kaffir Lime, Strawberry, Citrus, Raspberry and Tropical Fruits. Juicy!
Palo Beach - Palo Santo, Vanilla cream, driftwood
Palo Santo  - Sweet but very mild sage, vanilla, mint, citrus and cedar calming scent closely related to frankincense.
Paradise Reef - Nectarine, Tropical Flowers, Fresh Air, Salt Water
Peace Corps - Exotic wood, dry air, clean linen, musk, patchouli, smoke
Peaceful - Apricot, lemon, bergamot, garden mint, musk
Pecan Pie - Southern pecans, sweet syrup, buttery crust
Peeps  - Marshmallow, Vanilla and Buttercream
Penny Candy Store - Rainbow Sherbet, salt water taffy, light effervescence
Penuche Fudge - Creamy and Buttery Fudge with Vanilla and Brown Sugar
Peppermint Comfort  - Peppermint, Lavender and fresh Coconut milk.
Peppermint Marshmallow - Returning Favorite! Sweet, minty Candy Canes blended with fluffy marshmallows
Peppermint Tranquility - Cool peppermint, light Florals, Amber, Musk, sweet powder
Perfect Pumpkin Pie - Pumpkin, pumpkin pie spice, vanilla
Petal Cake  - House blend for lovers of Pink Petal Tea Cake. Sweet Vanilla cake, frosting, rosewater
Picnic In The Park  - Sweet airy blend of mango, coconut and strawberry
Pina Colada  - Pineapple and coconut just like your favorite frozen drink. Creamy and delicious.
Pineapple Whip - Icy, Creamy Pineapple frozen dessert.
Pinecone Lime Type - (Yankee Candle) Lemon, Lime, Holly green notes, Pine
Pink Chiffon – Exotic fruits, vanilla orchid, vanilla and musk
Pink Clouds - Pink Sugar with White Clouds. A clean, laundry blend.
Pink Flamingo - Orange, strawberry, ripe raspberry and a hint of juicy cherries with undertones of vanilla and clear musk
Pink Flip Flops - Vanilla, strawberry, coconut
Pink Fresh and Clean – Crisp apple, citrus, lily, amber and musk
Pink Grapefruit  - Tangy sweet grapefruit
Pink Mimosa Type - (Votivo Type) Strawberry, Mimosa, Sandalwood, Gardenia, Vanilla Rum, Mandarin, Berries
Pink Petal Tea Cake - Pink rose petals, pound cake, vanilla glaze
Pink Sands Type - Citrus, Coconut, Jasmine, Fresh Air, Sweet Florals, Vanilla
Pink Stiletto – Cotton Candy cocktail with sugar crystals and berries
Pink Sugar  - A sweet blend of cotton candy, lemon drops, caramel and berry jam with musk
Pink Velvet  - House blend of Pink Sugar and our own Velvet scent. Soft, feminine and sweet
Pink Velvet Breeze - Pink sugar, citrus, ozone, warm florals, water, stone fruits
Pinky - Pink Sugar, HR's own Squeaky Clean type
Pistachio Pudding Cake - Pistachio Nuts, Almond, Honey, Creamy Vanilla Custard.
Place Vendome - Black Label - Three carefully crafted layers allow this scent to evolve from bright green to a spicy floral and finally a woodsy finish. For lovers of the famous Hotel Costes signature scent
Plumeria Type - (BBW Type) Exotic sweet florals
Poached Pears  - Ripe Pear, Brandy, Lemon, Cinnamon, Nutmeg, Vanilla
Pomegranate Noir Type - (Jo Malone Type) Dark patchouli, Golden Amber, Pomegranate, Raspberry, Plum, Pink Peppercorn, Spicy woods
Porch Swing - Clean, Sweet Air with our Shorts and Sweater fragrance
Prancer - Peppermint Stick Ice Cream
Pressed Linen  - Lemon laundry scent. A Hayden Rowe original
Prince Charles - Polo cologne type,Shave & a Haircut
Prince Philip - Bergamot, orange, raspberry, mahogany, light florals, clove, vanilla, sandalwood - Flannel type
Princess Margaret - Zingy cherry, juicy watermelon, hint of effervescence
Private Jet - Leather, amber, mahogany, with a hint of tobacco
Provence - Sunny, herbal blend of Lavender, Rosemary and Sage. Like a field in Provence
PS2 – Palo Santo/Purple Sandalwood Palo Santo wood, Sandalwood, Violets, Amber, White Musk
Pumpkin Caramels - Creamy caramels lightly blended with Pumpkin for a sweet, mellow aroma
Pumpkin Cheesecake – Creamy cheesecake blended with sweet pumpkin
Pumpkin Firewood - Roasted pumpkin, autumn spice, applewood, firewood, amber
Pumpkin Pecan Waffles - Warm Pumpkin waffles topped with Pecans and Vanilla Sugar
Pumpkin Pie  - Pumpkin, Pumpkin Spice, Vanilla, Caramelized Sugar
Pumpkin Spice Latte - Milk, Butter, Pumpkin, Cinnamon, Nutmeg and a hint of Coffee
Pumpkin Zucchini Bread – Creamy, savory zucchini bread blended with pumpkin puree
Purple Rain - Sweet Lavender Lemonade
QE2  - Apricot, Pineapple, Lemon Zest and hints of Lavender
Radiant Red Maple  - Ripe Pear, Vanilla, Toasted Maple
Rainbow Fairy - Rainbow Sherbet blended with Frost Fairy Lime, Pineapple, Bubble Gum. Orange, Pear, Raspberry, Cotton Candy, Vanilla
Rainbow Sherbet - Fresh lime, pineapple, orange, raspberry, creamy vanilla
Rainbow Zotz - Sweet Rainbow Sherbet with an effervescent kick
Rainbows & Lollipops - Sweet, Fruity Candy and Lollipops
Raisin Bread - Freshly baked Raisin Bread, Butter, Vanilla, Bakery Cinnamon
Raspberry – Juicy red berries
Raspberry Cupcake – Juicy red berries and vanilla cupcakes
Raspberry Jam – Jammy red berries
Raspberry Lemonade – Ice cold lemonade with sweet juicy raspberries
Raspberry Mint - Sun ripened raspberries, gentle mint, vanilla
Raspberry Twinkies – Airy vanilla sponge cake with heavy cream and jammy raspberries
Raspberry Vixen - Raspberry Jam, Lemon Curd, Vanilla Sponge Cake with whipped filling
Red Currant - Tart Red Currant, Citrus, Rose, Geranium, Musk
Red Hots Candy – Cinnamon, cinnamon, cinnamon candy
Red Roses – Fresh lush and true to life red garden rose scent
Red Velvet Cake  - Devil's food cake, rich vanilla, Creamy Icing, Sugar Crystals
Refresh-Mint  - Aveda Rosemary Mint Type, Barbershop 1920's
Relaxation  - Powder, Rose, Lavender, light Vanilla, Musk
Ribbon Candy - Spicy sweet candy goodness with spicy cinnamon like your grandma's favorite treat
Ring Pop – Watermelon and blue raspberry candy scent
Rio  - Raspberry, strawberry, cranberry and apples enhanced with light florals, exotic woods and white musk.
Roasted Chestnut - Roasted Chestnuts, vetiver, cedar, sandalwood, vanilla
Rock Candy – Berries, cherries, citrus with hard rock candy and a hint of mint
Rocket Pop  - Lemon lime, blue raspberry and a pop of cherry like the tri-color popsicle
Rocket Pop - Lemon Lime, Blue Raspberry and bright Candy Cherry just like the red, white and blue frozen pops
Rocket Pop Fizz – Rocket Pop blended with effervescence
Rocky Mountains  - Fresh laundry blend of fern, green clover, jasmine, lavender, rich woods, sweet vanilla
Roman Holiday - Green Tea, Citrus, Aloe, Rosemary, Lemon Zest
Ron Ron Juice - Watermelon lemonade, cranberry, fresh OJ, effervescence
Room Service - Clean lemony laundry with beach air
Root Beer Float – Herbal root beer with creamy vanilla ice cream
Rose Colored Glasses  - Black Currant, Red Berries, Apple, Rose, Jasmine
Rose Jam Type - (L*SH Type) Citrus, Turkish rose, Geranium, Lemon
Rosemary Grapefruit –Votivo type
Rosemary Mint – Herb and mint blend.  Heavier on the mint
Rosemary Mint Lemonade - Herbaceous rosemary and mint blended with sweet and playful lemonade.
Rosewater Lemonade  - Lemon Juice, Lemon Zest, Strawberry, Raspberry, Iced Rose Petals
Royal Wedding - Lemon pound cake, fresh blueberries
Rudolph - Strawberry Margarita blend
Salt Water Taffy  - Strawberry, raspberry, banana, cherry, sugar, vanilla taffy
Salted Caramel – Caramelized sugar, sea salt and smooth vanilla caramel
Salty Sea Air – Ozone, ocean breeze, sea spray and seaweed. Beachy
Salty Sweet - Soft baked pretzel, yeast, salt, Vanilla, Fudge
Sambuca - Just like the liqueur, with notes of Anise, Black Licorice and Vanilla
Sand in your Shorts  - Tropical fruits including mango and papaya blended with coconut, and smooth vanilla
Sandalwood & Shea - Sandalwood, Shea Butter, Caramel, Amber, Vanilla
Sandalwood Peppercorn - Earthy masculine blend of Peppercorn, Clove, Juniper Berry, Sandalwood, Sage and Vanilla
Sandringham - White tea, citrus, crisp linen
Santa Suit - Vanilla, Coconut Milk, Heliotrope, Sugar, Sandalwood, Tonka Bean
Santa's Barber - Barbershop 1920's, tobacco leaf, honey, cherrywood, vanilla
Santa's Cookies - Returning Favorite! Sweet Sugar Cookies with peppermint bits
Santorini - Greek Island Breeze, Downy Blue
Satin Sheets - Honey, Amber, Vanilla, and Tobacco. Sexy!
Satisfaction - Coffee liqueur, cream, sugar and ice cream scoop bread
Satsuma Orange – Body Shop type featuring mandarin slices, bergamot and exotic fruits
Satsuma Shorts & Sweater - Returning Favorite! Our Shorts & Sweater scent with juicy Satsuma Orange
Scent of Snow - Minty fresh, slightly metallic scent like the air before it snows
Sea Island Cotton Type - (BBW Type) Cotton, Ozone, Musk, Amber
Sea Salt  - Salt with notes of sea air, light florals and musk
Sea Salt & Yuzu - Satsuma, grapefruit, yuzu, sea salt, stone fruit, water lotus and aloe
Seaside  - Ocean air featuring subtle orange blossom and lemon notes with a hint of musk
Seaside Barber - Barbershop 1920's blended with Salty Sea Air
Serene Waters  - Cool Wild Mint, Juicy Lime, Ocean Florals, Palm Trees and Sea Musk
Serenity  - Mandarin, Fresh Melon, Jasmine, Sandalwood, Vanilla, Green Tea
Sex Bomb – L*SH type with coconut, lily, lavender, jasmine, musk and woods
Sex on the Beach  - Cranberry, Guava, Vodka, Peach, Cherry, Pineapple, Berry
Shangri-La - Citrus, Cedar, Pine, Light Florals, Gain laundry type
Shipwreck - Driftwood, Ozone, Sea Salt, Light Florals
Shirley Temple - Ginger ale, Maraschino cherry
Shorts & Sweater - Clean laundry scent with mild notes of citrus, florals, blonde wood and musk
Silk Sari - Delicate notes of sandalwood, rose and powder
Sinus Blaster – Camphor, eucalyptus, menthol and mint.  Strong!
Sittin' on the Dock of the Bay - Sandalwood, musk, ozone, amber, driftwood
Skittles - Citrus and sugary goodness just like the candy
Smell of Weather Turning Type - (L*SH Type) Nettle, Oak, Hay, Beeswax, Mint, Chamomile, Oakmoss, Cinnamon
Snickerdoodle - Sugar, cinnamon, caramel and sweet buttery cookie goodness
Snow Cake - Marzipan, Rose, Cassia, Almond
Snow Kissed Linen - Clementine, bergamot, orange blossom, fresh linen, frosted ivy, cotton candy, sandalwood, musk
So White - L*SH type
Soft Coeur Type - (L*SH Type) White Musk with notes of Toffee and Honey
Soft Pretzel - Soft baked pretzel, yeast, salt
Solar Power - Orange, Lemon, Grapefruit, Jasmine, Honey, Summer Fruit, Light Florals, Vanilla
Solstice - Palo Santo, sugar cookies
Sorrento - Black Label - Lemon, orange, fig- sophisticated!
Sour Patch Kids  - A little sweet, a little sour. Citrus, Pineapple, Berry, Vanilla
South Beach  - Tropical! Ripe melon, raw sugarcane, blooming lilies and an ocean breeze. This one is not to be missed!
South of France - Clementine, orange blossom, pear, pineapple, coconut milk, tonka bean, sandalwood, musk
Spa Day - Bergamot, white tea, cedarwood and a hint of vanilla. Sophisticated and relaxing
Sparkling Clean - Squeaky clean soap scent, exotic lavender
Sparkling Mimosa – Mandarin orange, tangerine, pineapple, berries and delicious fizz
Spearmint – Minty fresh candy aroma
SPF 30 - Sunscreen with light coconut notes
Spindrift – Cool sea spray blown by an autumn wind. Ozonic and acquatic
Spring Green  - Lemon zest, floral notes of violet and jasmine and melon. Fresh and green
Squeaky Clean  - Soapy clean with notes of sea air, citrus, ozone, light florals, amber, moss and sandalwood
Stainless Steel  - Clean, masculine scent of citrus, ozonic notes, moss, tonka, light florals
Starburst - Candy blend of Berries, Guava, Pomegranate and Vanilla will remind you of your favorite Starbust.
Stay Puft – Fluffy white marshmallows
Staycation - Strawberry, Raspberry, Guava, Effervescent Fizz
Stiletto* - Citrus, Ozonic Notes, Moss, Tonka, Light Florals, Barbershop 1920's
Straight Fizz  - Pure effervescence
Strawberry Cotton Candy  - Pink Cotton Candy with Sweet Strawberries
Strawberry Passion – Ripe strawberries with notes of candy and vanilla
Strawberry Peeps  - Marshmallow Peeps with sweet candy strawberry
Strawberry Pop Tart- Sweet strawberry jam in a flaky pastry crust
Strawberry Pound Cake - Rich pound cake, fresh strawberries, vanilla whipped cream
Strawberry Raspberry Guava – Fruity perfection.  Juicy sweet berries
Strawberry Sky - Vanilla Sky (Creamy Vanilla, Dry Woods, Amber, Vanilla Bean Noel) blended with Strawberry Jam
Strawberry Taffy  - Strawberry Candy scent
Strawberry Twinkies – Airy vanilla sponge cake with heavy cream and strawberries
Strawberry White Cake – Airy white cake mixed with summer ripe strawberries
Strawberry Zotz - Sweet Strawberry Candy with an effervescent kick
Stress Less – Powdery aquatic fragrance with notes of peony, jasmine, orchid and musk
Suede - Sensual perfume scent with floral, fruity, warm, smoky and earthy notes
Sugar Cookie – Sweet buttery cookie goodness
Sugar Cookie Dough - Rich, sweet, buttery, creamy vanilla sugar cookie dough
Sugar Rush  - Vanilla, Strawberry, Cherry and sweet Sugar Crystals
Sugared Lei - Plumeria, sweetened condensed milk
Sultana – L*SH type
Summer Breeze - Clean Laundry scent similar to Gain. Citrus Blossom, White Jasmine and Woodsy Amber
Summer of '69  - Orange, Patchouli, Jasmine, Geranium, Neroli, Petitgrain, Rosewood, Sandalwood, Musk and hints of Pine. Inspired by the L*SH Karma scent
Summertime - Sea salt, sea moss, green vetiver
Sun Dried Laundry * - Freshly washed laundry in a springtime breeze. Reminds of Febreeze Linen and Sky
Sun Salutations - Grapefruit, orange, pineapple, jasmine, apricot, vanilla, musk
Sunset Bonfire - Smoky Wood Fire, Marshmallow, Light Beach Florals
Sunshine - Cucumber, Sea Salt, Violet Leaf, Sweet Grass
Sunshine State - Tangy Grapefruit, Rhubarb, Garden Mint, Light Florals, Apple, Vanilla, Musk
Sweater Weather Type - BBW earthy, clean favorite with Juniper Berry, Eucalyptus, sage and a hint of sweet Spearmint oil
Sweet Amber - Powder, amber, spun sugar, musk, vanilla
Sweet Bakery Dough – Buttery cream, powdered and caramelized sugars
Sweet Caroline - Roasted Marshmallow, Burnt Sugar, Cocoa, Vanilla, Campfire Smoke
Sweet Dream - Raspberry Lemonade, Strawberry, Raspberry Guava, Lollipops
Sweet Grapefruit  - Ripe, tangy grapefruit with exotic mangosteen
Sweet Grass - Bergamot, green apple, florals, clear musk
Sweet Lavender - Lavender with hints of Orange, Lemon, Bergamot, Mint
Sweet Orange Chili Pepper – Bursting with Orange and Mandarin but rounded out with the warm aroma of chili pepper.
Sweet Smell of Victory  - Triple berry scent featuring red and blue raspberries and strawberry
Sweet Summertime - Apricot, citrus, light florals, sweet honey
Sweet Tea – Freshly brewed sweet tea with juicy lemon
Sweet Temptation - Apricot, grapefruit lily of the valley - VS type
Sweetness & Light - Lemon rind, tart citrus, sugared cranberries, sugarcane, vanilla
Taffeta - Jasmine, poppy, yuzu zest blended with florals and musk. Similar to White Velvet Bow.
Tahitian Spa - Lemongrass, Bergamot, White Tea and Cedarwood
Taj Mahal - Black Label  - Lemon, Bergamot, Jasmine, Neroli, Lily of the Valley, Cedar, Sandalwood, Musk
Tangerine – Freshly squeezed tangerine scent
Tangerine Gelato - Tangerine, cream, lemon zest, vanilla, white woods
Teak & Holly - Teakwood, driftwood, freshly cleaned laundry
Telluride - Amber, cocoa, vanilla, cedar, spices, musk, sandalwood- Santal 26 type
The Barber's Blind Date - Barbershop 1920's and Hayden Rowe Pink Velvet
The Beatles - Fresh Picked Strawberry
The Great Pumpkin – The Ultimate Pumpkin Scent
The Night Circus - Sultry and mysterious mixture of our Velvet and Carnival with notes of Caramel, Apple, Citrus, Berries, Warm Florals and Vanilla.
The North End - Cannoli Shell, Vanilla Cream, Cannoli Cream, Coconut, Cocoa.
The Tide is High - Barbershop 1920's, Tide detergent, ozone and amber
The Who  - Sun Dried Linen, Citron, Cyclamen, Ivy, Rose, Tonka, Vanilla Flower, Warm Amber and a hint of Patchouli
Thin Mints – Chocolate with creamy mint like the cookies
Tis the Season - Golden apples, pine needles, holiday cider, cinnamon. Slatkin type
Toasted Coconut – Rich toasted coconut scent
Toasted Hazelnut – Nutty roasted hazelnut
Toasted Marshmallow - Sweet toasted marshmallows
Toasted Pumpkin Spice  - Cinnamon, Nutmeg, Clove, Buttercream, Pumpkin
Toasty - Clove, coconut, blood orange, vanilla, amber, birch, cedar wood
Tobacco – Sweet tobacco scent. Manly
Tonka & Oud - Powder, amaretto, tonka, balsam, rum, musk, oud wood
Tonka Bean  - Velvety Amber, Tobacco and Sweet Vanilla
Tranquility - Light Florals, Amber, Musk and now more sweet powder than our original version!
Treat Yo Self - Baby powder, red fruits, light florals, musk, coconut milk, sugar
Tropical Punch  - Sweet Fruit Punch like you remember from childhood
Tropical Wedding - Coconut, Mango, Peach, Tangerine with White Wedding Cake
Turquoise Sky - Beach air, sea grass, musk, citrus, ocean florals. YC Type
Twinkies - Airy sponge cake loaded with heavy cream
Twisted Mermaid  - Sugary sweet berries blended with citrus and vanilla like a tropical drink
Twisted Peppermint Type - (BBW Type) Peppermint, Vanilla, Sugary Musk
Ultimate Strawberry Cake - Whipped Cream, Strawberry, Vanilla Cake
Under the Boardwalk - Apple Candy, Toasted Coconut, Pralines, marshmallow, vanilla, tonka, musk
Vacation Fling - Citrus, black pepper, clove, leather and musk cologne
Vanilla – Creamy vanilla scent
Vanilla Bean Noel Type - (BBW Type) Vanilla bean, Caramel, soothing cream
Vanilla Chai – Warm vanilla, caramel and chai spices
Vanilla Clouds  - Vanilla Sky with White Clouds. Smooth laundry scent that will appeal to lovers of Christmas Clouds
Vanilla Cupcake  - Rich Vanilla Sponge cake
Vanilla Lace - Vanilla, Orchid, Musk- Victoria's Secret type
Vanilla Lace Type - Vanilla, Orchid, Musk
Vanilla Lavender Type - Fresh Lavender, Vanilla Beans, Orange Zests, Patchouli
Vanilla Mint – Fresh peppermint, vanilla and a hint of cognac.
Vanilla Mint Cake - Fluffy yellow cake blended with gentle vanilla min
Vanilla Sandalwood – Vanilla Sandalwood type
Vanilla Sands  - Pink Sands and our own Vanilla Sky. Citrus, Florals, Spicy Vanilla, Sweet Vanilla, Musk
Vanilla Sky  - Creamy Vanilla, Dry Woods, Amber, Vanilla Bean Noel
Vanilla Suede - Vanilla, White Orchid, Suede
Vanilla Tobacco  - A Hayden Rowe House Blend! Tobacco, Warm Vanilla, mild hints of Pipe Smoke
Vanillary - Warm Vanilla, sweet Jasmine, sexy Tonka Bean. L*SH Type
Vegas, Baby  - Smoke, barnwood, musk and patchouli - Smoke & Mirrors type
Velvet  - Fruit and warm florals including raspberry, peach with vanilla and amber
Vermont - Evergreens, Autumn leaves, Sequioa woods, late summer florals
Vermont Honey Apple Type - (BBW Type) Sweet apple, Pear, Nectarine, Honey butter, Vanilla sugar, Coconut milk, Musk
Versailles - Blue Sugar and Let Them Eat Cake. Caramelized sugar, cedar, tonka bean, sugarcane, coconut milk, vanilla orchid, white musk
Vineyard – Merlot, Cabernet and Zinfandel grapes straight from the field. Not a candy grape. YC Type
Violet  - Sophisticated, Clean Floral scent
Violet Lime - Violet with crisp, clean lime. Super strong.
Violet Sugar Cookies - Sugar Cookies and Violet Candy
Viva La Juicy Type - (Juicy Couture Type) Wild berries, Mandarin, Honeysuckle, Gardenia, Amber, Vanilla, Sandalwood
Vixen - Fluffy Vanilla sponge cake with sweet and creamy whipped marshmallow filling
Volcano - Tropical fruits, sugared citrus, violet leaf, sweet Japanese quince, cassis, pomelo
Waffle Cone – Vanilla, butter and sugar baked into your favorite ice cream cone.
Walking on Sunshine* - Fruit Loops, White Cake
Wallis Simpson - Aquatic notes, quince, currants, bamboo, citrus
Warm & Toasty - see Toasty
Waterfalls - Herbal cedar, citrus and woods. Fresh!
Watermelon Jolly Rancher  - Candy watermelon with a slightly sour edge
Watermelon Margarita – Juicy watermelon sweetens a classic lime margarita
Watermelon Mint - Juicy Summer Watermelon with Garden Mint
Watermelon Zotz - Sweet Watermelon with an effervescent kick
Weekend Nap - Bergamot, Lemon, Orange, Geranium, Muget, Rose, Amber, Vanilla and Musk
White Birch – Sophisticated pine scent with notes of tonka, cypress and eucalyptus
White Clouds - Clean laundry scent
White Linen - Clean and crisp laundry type
White Mountain Inn - Amber, Vanilla, Musk, Sandalwood
White Sage - White sage, Sea Salt, Citrus, Florals, Driftwood, Cedar, Musk
White Sage & Lavender - Lavender, Camphor, Chamomile, Sage, Rosemary, Sandalwood, Cedar
White Tea & Berries* - Red berries, white tea, jasmine, cedar, ginger, vanilla
White Tea & Ginger  - White Tea, Citrus, Ginger, Earl Grey Tea, Woods, Musk, Berries
Whole Wheat Bread – Fresh baked whole wheat bread with a chewy crust
Wild Air - Fresh air, ocean breeze, mint, eucalyptus, fern, dune grass, musk, cedar
Wildberry – Fruity blend of sour cherry, fresh blueberry and sweet red raspberries
Wildberry Parfait – Wildberry with whipped cream
Windsor Castle - Clean laundry, herbal cologne, sea & salt air, light florals
Winter Lodge  - Rich Vanilla, Coconut Milk, Heliotrope, Crisp Linen, Sandalwood, Amber, Tonka Bean
Winter Nap  - Bergamot, Lemon, Orange, Geranium, Muget, Rose, Amber, Vanilla, Musk. Sensual and relaxing!
Wood Sage & Sea Salt - Himalayan sea salt, crushed sage and oud wood
Woodstock - Fresh Rain and earthy Patchouli with mild floral notes of cyclamen, ozone, moss and citrus
Woolen Mittens - Our own Shorts & Sweater scent mixed with the freshness of a winter's day
Yellow Polka Dot Bikini - Raspberry Lemonade, Lemon laundry
You Snap The Whip – L*SH type
Yuletide Flame - A hardwood fire blended with just the right amount of Christmas Spice
Zen Garden - Citrus, Cedar, Pine, Light Florals
Zesty - Squeaky Clean, Zen Garden
Zucchini Bread  - Freshly baked Zucchini Bread with hints of cinnamon, sugar and nutmeg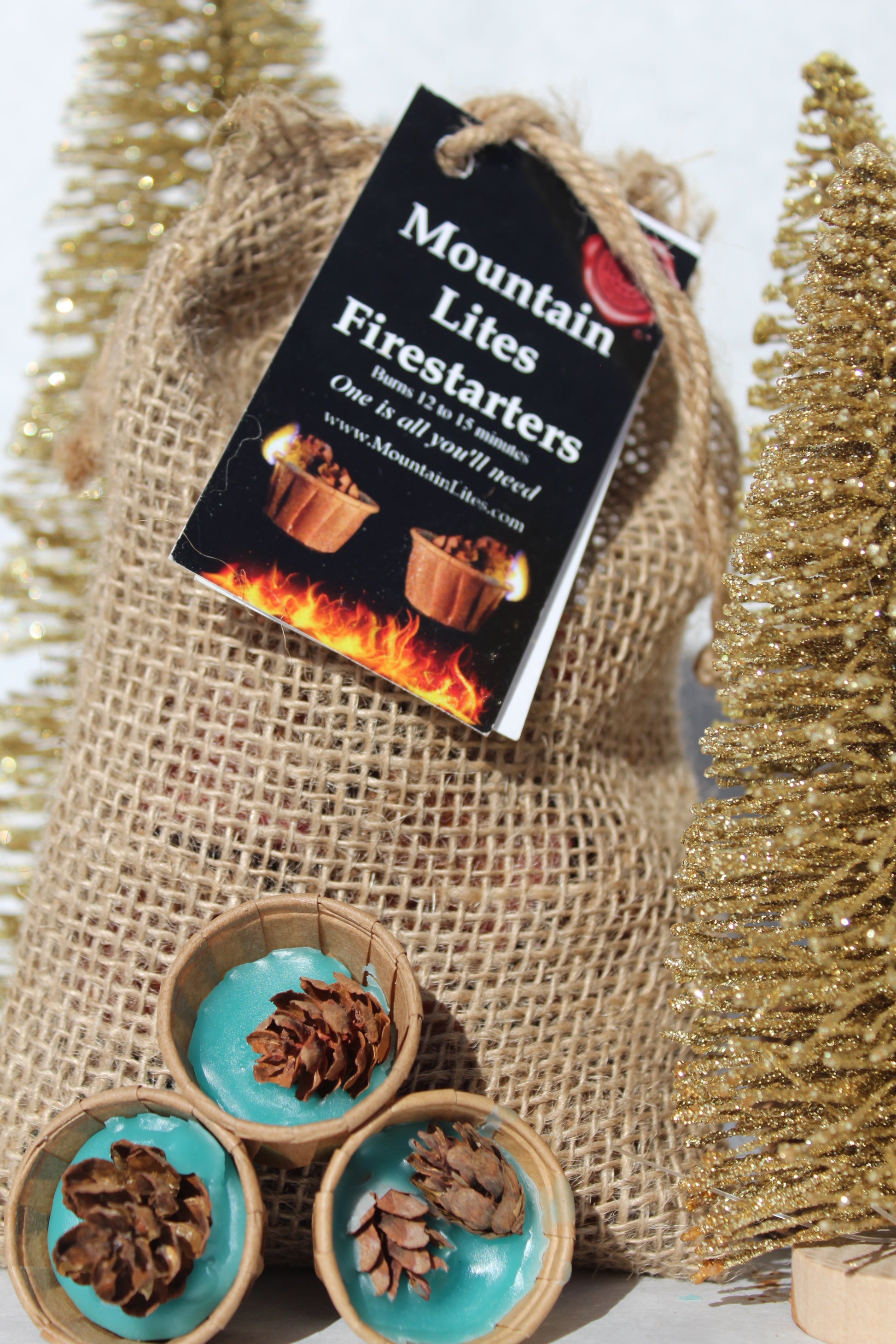 Mountain Lites Firestarters
Regular price
Sale price
$12.50 USD
Unit price
per
Sale
Sold out
Share
View full details